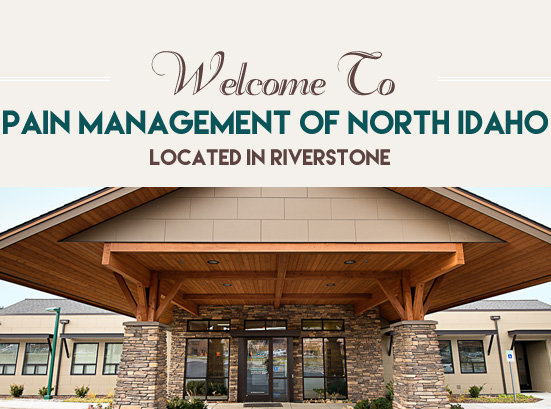 Pain Management of North Idaho in Coeur d'Alene, is an interventional chronic pain clinic in Coeur d'Alene with a Medicare accredited Surgery Center and North Idaho Pain Center, under one roof. With the convenience of both entities together, we can serve the needs of patients with a variety of pain levels without the patient having to travel around for various services. Efficient care that is seamless between the physician and the center where the procedures are performed. We strive to provide the highest level of clinical quality, patient satisfaction, and treatment outcomes.




Pain Management of North Idaho is Coeur d'Alene's ONLY comprehensive pain management center where patients have access to a Board Certified Interventional Pain Physician and Board Certified Anesthesiologist.


Our mission is to treat our patients in a respectful and professional manner, with kindness and empathy from their first contact with us. Pain Management of North Idaho in Coeur d'Alene, wants each patient to be assured that they will receive the best care possible. Everyone in the office is part of that process, and each job is crucial to that goal. We take pride in the care we give to our patients. We commit to be ethical, competent and fiscally appropriate to our community.

The staff of Pain Management of North Idaho is dedicated to treating chronic pain, including cancer and non-cancer pain. Each patient is given a thorough, comprehensive evaluation to determine the most appropriate plan of care.

SCOTT K. MAGNUSON, MD

Dr. Magnuson is a graduate of Creighton University School of Medicine. After spending four years in the U.S. Navy as a flight surgeon, he completed an anesthesiology residency at St. Luke's Hospital, in Kansas City.

CLINTON M.THOME, MD

Dr. Thome is a fellowship trained pain management physician. He completed his anesthesiology residency and pain medicine fellowship at the University of Texas Health Science Center at San Antonio (UTHSCSA) in San Antonio, Texas.

DENISE LOVE, ARNP

Denise Love, ARNP is a graduate of Washington State University College of Nursing with her Master's of Science Degree in 2012and is board certified through the American Nurses Credentialing Center in Family Practice.